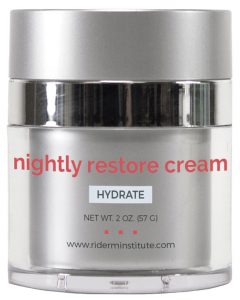 Nightly Restore Cream
A favorite at RIDI, this intensely moisturizing night cream combats dryness and nourishes skin back to optimum health.  High performance ingredients work synergistically to nourish and repair the skin's barrier function, restoring skin firmness and visibly reducing signs of aging.  Awaken to younger, hydrated, healthier looking skin.  Other benefits include:
Biomimetic ceramide complex keeps skin nourished and supple
Peptides target wrinkles and improve overall appearance of skin
Hyaluronic acid deeply hydrates and plumps visible lines and wrinkles
Stem cells (from Swiss Apples) to improve skin firmness and elasticity
Collagen boosting niacinamide for smoother tighter skin
Recommended skin types: Great for the normal to dry skin patient and sensitive skin types.  Enhances results when used in conjunction with retinoid therapies
Directions for use: After cleansing skin, apply to desired areas (face, neck, decollete) in the evening or as directed.  When used in conjunction with a retinoid, allow retinoid application to dry before applying cream.