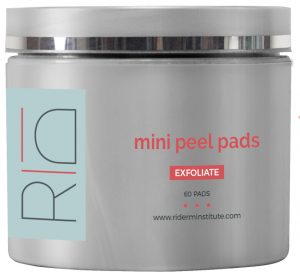 Mini Peel Pads
Help achieve smoother skin texture and brighter more evenly toned skin with ultra-pure crystalline glycolic acid pads.  This powerful glycolic acid formula helps gently exfoliate the skin's dead cell layer, supports cellular renewal by removing the dead cell layers of the stratum corneum, and moisturizes by bringing water molecules from the environment into the skin.  Witch hazel delivers skin toning and astringent benefits.  Antioxidants nourish the skin while protecting it from free-radical damage. Other benefits include:
Enhances skin tone and texture
Improves skin clarity
Increases skin radiance
Accelerates skin's natural renewal process
Liposome encapsulated antioxidant enriched formula
Paraben-free, non-comedogenic
Active ingredients: glycolic acid, witch hazel
Recommended skin types: Perfect for normal to oily skin types.  Those with sensitive skin should use sparingly.
Directions for use: Remove a saturated pad from the jar and wipe the textured pad over the face.  Let sit for up to 10 min as tolerated.  Wash off and follow with moisturizer as needed.  Use weekly to start and increase frequency as tolerated.